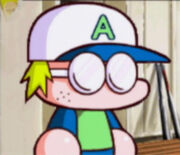 Marvin is a glasses wearing, green haired character from MLB Power Pros 2007 in the mode "Success". He is the best friend of the character you can make in the mode and tends to be known as his sidekick in a sense.
Apperances And Stats
Edit
MLB POWER PROS 2007Edit
In this games Marvin has some of the lower stats compared to other players on your team. He starts the game with a trajectory of 1, a contact of 4, a low power of 41, a higher running speed of 8, an arm strength of of 5, and fielding and error resistence ratings of which are both at 4. He also has a nice amount of abilities which include the good bunt ability, the good stolen base ability, Head first slide, and he is also an aggressive stealer/ base runner.
MLB POWER PROS 2008Edit